first "what a future smart home may look like" idea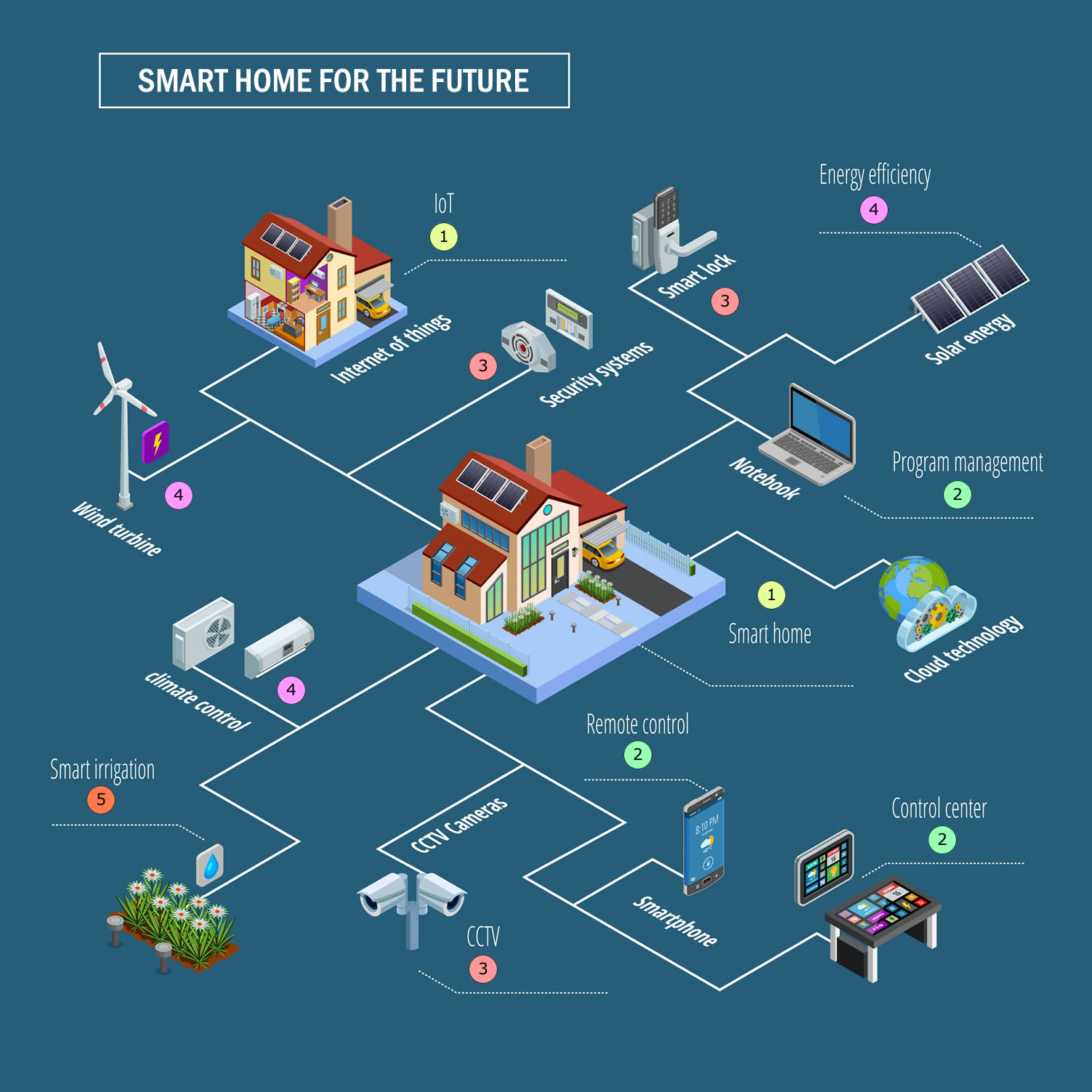 copyright image by 123rf.com
Designing a Future Smart Home
Notes:
What is a smart home?
Today, we define it as a home with automation devices to control lighting, HVAC systems, home security systems, and other smart home devices.
That means you can walk into your home at night and using your voice to, "turn on hallway and upstairs lighting". It also means using your hand-held device to turn up the AC before you get home.
Likewise, you can use home automation to check in on your family when traveling for business – and connect to your home computer to retrieve a file that is on the main hub.
Now the question is, what is a "future" smart home look like?
This post will explore using the diagram above to analyze the design of a future home – a home that is connected to a central command center that automates family management, communication, energy consumption, health and safety.
Another advantage of future smart homes is the collection of data to improve family home efficiency. The command center will schedule appointments, remind family members of events, and track usage and time to balance out life – whether you are at home, at work, or traveling in your car.
So let's review what a "future home" may look like – starting with the understanding of Internet of Things (IoT):
1: Internet of Things (IoT):

The first thing you need for a smart future home is IoT – that is Internet of Things – a system of interrelated computing devices all connected to the internet.

copyright image by 123rf.com

For IoT to function properly, you will need a fast internet connection that is wired into the home. That line connects to a central hub that networks everything together to manage household devices.

Quik scroll to topic side notes …

Understanding Internet of Things (IoT):

IoT functions as a network that manages everything that is automated inside the home. This includes home security, home entertainment, home automation, home energy production, messaging to family members, ordering household items, and more.

This type technology allows you to manage living needs via voice commands and control panels such as hand-held devices and monitoring stations.

The other key function of IoT is connecting to cloud technology for remote home management no matter where you are located. You can use your phone or other device to monitor, manage, message, and control devices in your home while on vacation or traveling for work.

copyright image by 123rf.com

Additionally, the IoT (via the hub) connects to the cloud for retailers and service providers to supply and schedule family needs and services; i.e., doctor, dentist, banking, and other family services and appointments.

The cloud connection also allows technology updates downloaded by suppliers and other third parties that manage appliances and other related smart devises.

—— next topic ——

2: Command Center:

The command center functions as a central hub that connects the internet to the smart devices that you setup throughout the home and garden.

View this as an extensive network that starts with the center hub – this could be a stationary desktop or control monitor – where you setup and network all of the smart devices into the central command center.
Currently using today's technology, you can setup hubs that function as a control module. Unfortunately, the hub technology is not standardized across all smart devices – thus you have fragmented hub. Future hub technology will standardized everything for central control via a command center connected by IoT and the cloud.
The command center – via wireless and cloud technology – will pass on the IoT controls to any mobile or communication device such as your smart phone, laptop, smart watches, smart mirrors, pads, home assistants, etc.

copyright image by 123rf.com

The command center will likewise limit which mobile device will have full access to the network. For example, you may want to limit children access to certain controls such as HVAC, energy production, and other household needs.
The control center (hub) – via IoT – will also connect to cloud technology that is dedicated to you. This will allow access to the control hub no matter where you are via your mobile device. You can control, monitor, change, and setup automatically via the hub any smart home device or need.
A good example is when you are away for a weekend with your family and a neighbor is checking in on the pet dog. You can setup a temporary security access that gets them into the home. You can likewise monitor your pet dog and notify the neighbor if any concern may be needed.

Quik scroll to topic side notes …

Understanding Command Centers:

The command center puts you in control of your future home. It becomes the central hub where communication (and commands) can be made.

For illustration, let's say you have a smart mirror in the master bathroom. You awake in the morning and request the latest weather report for dressing purposes. The smart mirror, connected to the hub (either by smart wires behind the wall or via wireless), is able to display the weather forecast on the mirror within a second.

copyright image by amazon

You can also ask the mirror to display your schedule and appointments for the day. You can view any medical, school or other appointments for the family – since outside services from the work office and service providers can use IoT to forward upcoming schedules, tasks, and appointments to your central hub via the cloud.

With all of the information displayed on the mirror as you get ready, you can then send a voice instructions via the hub to family members' mobile devices to remind them of appointments, schedules, tasks, etc.

And note that this access and communication will be highly secured – to block hackers from accessing the hub. The future will offer secured facial, eye-scan, fingerprint and other authentication access of IoT and central hub controls and devices.

What kind of devices are we talking about:

Controlling Home Devices:

The command center puts you in control of home devices that will make the home comfortable and eco-friendly.

You will establish the controls and automation of the following devices – with full access via your mobile connections. You can likewise restrict access base on permission rules.

Smart Switches and Outlets:

Future homes will likely be wired to give you smart controls at every switch and outlet. Each of the outlets/switches will be displayed in zones/by room on your command center.

Any electrical device plugged into an outlet; or any electrical switch that controls lighting or other, can be control or automated via the hub – and from the hub to any mobile device or voice command device such as Alexa or Google Home.

Smart Lighting:

All lighting will be connected to smart outlets or switches. So your lighting can be turned on/off from the command center; and the lighting can be scheduled to turn off/on based on the time set by the hub and/or the rise and sunset of the sun in your area.

Most of your lighting will use smart LED light bulbs that can be dimmed, changed to a different light illumination, or displayed in varying colors by your mobile device or voice command.

copyright image by envato.com

Smart Appliances:

Smart appliances include some of the following:

Smart Refrigerators:
monitors what is inside the refrigerator, what food items need to be replaced, what items left the fridge but never returned, what recipe ideas to use based on what's inside the fridge, and making online grocery orders via the hub for supplies needed for the fridge.
Smart Counter Appliances:
this will include coffee makers, espresso makers, toasters, and other devices that can prepare food as illustrated by a recipe or schedule.
Smart Blinds:
that open and close automatically based on a schedule set by the hub. This could be a time schedule, temperature schedule, weather schedule, or sunset/sunrise schedule.
Smart Robotics:
could be robotic cleaners, robotic nannies, robotic elderly care, and other smart robots that perform tasks or needs.
Smart Energy Consumption:
this includes HVAC controls, energy production and distribution that will be discussed below.
Other Appliances:
laundry washing and drying controls, cosmetic devices, and other future appliances that make home life easier.

Smart Entertainment:

ability via the hub through your mobile device or voice to select and play music, podcasts, or any other entertainment via smart speakers setup in individual rooms. You can play in all rooms or select rooms.

Entertainment includes smart home media and home theater where any entertainment can be streamed to the control hub via the cloud and then accessed by any monitor device.

Eco-Friendly:

ability to monitor water usage, electrical usage, food wastage, etc. Living a eco-friendly life means controlling and preserving consumption to maximize savings and use.

Smart Garage:

garages with automatic garage door openers, charging stations for EV (electrical vehicles), and smart workbench stations with voice and monitors for DIY projects and guides.

—— next topic ——

3: Security Systems:

Having a secured home and premise is one of the key needs of a smart home. Future homes will become valuable homes that need to be monitored and protected from intrusion, weather, and other unforeseen events.

Your "smart" system will include CCTV cameras that monitor both the inside and outside of the house; smart locks that can be tailored to facial of voice recognition or mobile device codes; motions sensors that detect any disturbance around the perimeter of the home and/or property; and nanny cams or robots to monitor family activity and needs.

copyright image by 123rf.com

Any disturbance or intrusion will be picked up and relayed to the command center and/or cloud for instant notification and action. You can likewise use the cams to check in on front-door activity, family members, pets, and others while traveling.

Quik scroll to topic side notes …

Other Home Safety Systems:

Keeping your family safe "inside the home" is another important component of future homes. Safety includes fire, air purification, gas leaks, and more.

Smart fire alarms that include smoke and heat detection cannot only sound an alarm, but with smart lighting, direct family members to safety via a pre-designed fire escape plan setup in the hub.

Many future homes will also have installed fire sprinkler systems in areas where fires may be at risk; i.e., kitchen, garages, etc. The key component of a smart system is to prevent a potential fire.

copyright image by envato.com

There will be other safety monitors such as carbon monoxide detection, radon gas detection, and other gas-release detection that instantly notifies the command center for alarm and service.

Future homes will have built-in air ventilation systems that intakes fresh air from the outside – filters it – circulates it throughout the home – and then exits any stale, humid and smoke to the outside vent.

And you will find whole-house water purification systems that work with smart plumbing. The command center can specify which plumbing device gets the purified water (such as kitchens, bath faucets, etc.) that enters the home from either a community utility and/or provided by an underground well or reservoir that collects rain water.

copyright image by envato.com

Monitoring Screen Time:

The biggest threat to children today – and into the future – is the overuse of screened devices on a daily basis; i.e., cell phones, note pads, television, etc. It is estimated currently that teenage children spend up to 7-9 hours a day on screened devises; younger children at 4-5 hours per day.

Although access to these devices provide education, entertainment, and connection with friends, unlimited and unwise use of this screen time can lead to problems.

copyright image by envato.com

What kids are exposed to with 7-9 hours of daily usage:

Violence and risk-taking behaviors
Videos of stunts or challenges that may inspire unsafe behavior
Sexual content
Negative stereotypes
Substance use
Cyberbullies and predators
Advertising aimed at your child
Misleading or inaccurate information

This excessive, unmonitored uses can lead to the following problems:

Sleep problems
Lower grades in school
Reading fewer books
Less time with family and friends
Not enough outdoor or physical activity
Weight problems
Mood problems
Poor self-image and body image issues
Fear of missing out
Less time learning other ways to relax and have fun

Resource copy: from the American Academy of Child and Adolescent Psychiatry

In the earlier days when we were growing up, our parents would caution us to avoid certain kids in the neighborhood who displayed a bad influence. Today, our children are exposed to an uncountable number of bad influencers that can impact them and the whole family.

So what the future allows is a control hub that monitors child usage. Based on your settings, messages can be sent to your child's screen device for time limits, monitoring usage, and turning off or disconnecting the device when the child goes over any time or usage rule.

The idea is to control child usage and encourage better time habits that involve outside activities and school/community curriculum. Other hub controls is disabling phone access when you sit as a family for a meal. Anybody that enters a perimeter of the home, such as around the kitchen table, the hub will disable all mobile access.

—— next topic ——

4: Energy Efficiency:

Homes of the future will be more self-sustaining for their home energy needs. They will be equipped with renewable energy sources such as solar, geothermal, wind, and possibly other sources.

Future homes will use energy efficient materials and appliances through-out the house to reduce energy waste and cost. Some ideas include much of what we do today, but with better technology and design:

proper insulation throughout the house to avoid energy loss
home ventilation system for clean, filtered air
energy-efficient windows and doors
energy-efficient lighting with automatic turn-off sensors
HVAC systems and controls for each room to provide and monitor heat/cooling needs
monitoring devices to manage usage of all utilities

copyright image by 123rf.com

These energy-making devices (solar – wind – other) will be connected to the command center. Here you can monitor your electrical generation and consumption – and in some communities, sell any excess energy back to the grid.
A smart home will also maintain a whole-house battery generator that can store and provide electricity during the hours where the power sources at not functioning.
The command center will become the central hub for managing the home's energy needs. You can instantly review production/consumption/cost to maximize energy savings and use.

Quik scroll to topic side notes …

Renewable Energy Sources:

Although renewable energy resources are somewhat limited, access to them could one day be more affordable and sustainable than using fossil fuels. New home construction may include some of the sources so that homes and businesses can become more self-sustaining.

copyright image by envato.com

The objective of this post is to review current renewable energy sources and other alternative options to help move the US energy economy to clean and reliable energy. It will also provide the "know-how" for personal home generation and the pros and cons of each:

Going Green:

You don't have to wait for the future to have a green home. You can implement many of these energy efficient systems to keep energy costs down.

One green solution is the use of solar panels on your roof. If your climate and roof have ample sun, you can generate much of your daily use of power and sell any excess to the grid for energy credits.

copyright image by envato.com

Other energy saving ideas include replacing current lighting with LED light bulbs; upgrading your windows and doors; sealing off air leaks; and installing home automation to monitor and control excess energy use.

Another option is wifi-controlled automated blinds. They can be programmed to open during the night to help cool the room; and close during the day to block sun rays from heating up the home. And during the winter, just the opposite – open during day and closed at night.

Solar Panel Views
on Front Roof
view
on Back Roof
view
on Awnings
view
on Driveway
view
in Yard
view

—— next topic ——

5: Smart Irrigation:

The smart home of the future will be producing some of its own food through controlled irrigation and/or hydroponic gardening. This production will include organic leafy plants and vegetables and other food sources and storage.

You can manage water usage via the command center so that water is not wasted. The system will come with moisture indicators that automatically apply water based on the plant needs when the soil (which is being monitored) becomes dry. This could be either drip or spray application.

copyright image by 123rf.com

A smart home will also have rain collection reservoirs for irrigation and internal watering needs. This could be underground reservoir tanks or rain barrels that collect and store rain water coming off the roof and other drainage areas of the home.
These controls and collections minimize water wastage and usage from other sources, which is becoming valuable water conservation in some parts of the world.

Quik scroll to topic side notes …

Smart Landscaping:

We have been reviewing what a future smart home may look like. But what about a smart garden?

What could you do to make your landscaping smart for easier maintenance, conservation, and beauty?

copyright image by twenty20.com

What the future will bring is smart irrigation, soil sensors, and solar green houses that can help produce some of the food needed for the family.

Another option is a temperature-controlled food storage areas for storing harvested foods, canned goods, and other food and households needs. The goal is to become self-sustaining as possible in energy, food, and water.

Hydroponic Gardening:

So what is hydroponic gardening? It is a green way of gardening that consumes less environmental resources such as water, fertilizers, and more. And it doesn't take much space to give you a year round gardening solution for the household.

The future home may have a garden greenhouse or attached sunroom where hydroponic gardening can be used to produce leafy greens, vegetables, tomatoes, strawberries, other other related foods. If the greenhouse is big enough, you can grow potatoes and onions for stored uses.

copyright image by twenty20.com

Hydroponic gardening is a method of growing plants without soil by using mineral nutrient solutions in a water solvent. Using this method of gardening, you can grow under the right conditions food items free from chemicals and other harmful substances.

Whenever your are ready to serve, simply remove the plant from it support dish – plant and roots – and snip the leafy plant from the base of the roots and serve. In some cases, the roots can be planted again to form a new plant.

CONCLUSION

There are other smart home applications that will be coming onto the market as the technology improves. Once such application may be robotics that perform certain tasks, including some robots becoming the command center with 24/7 monitoring, securing and setting controls.

In the meantime, we can build our own smart home using smart devices such as security – energy generation – lighting – and more, all networked into a hub connected to your current internet access. It will give you an elementary IoT that will be accessible as other hub-control features come onto the market.

ideas to view and compare from the photo above

smart home control hubssmart home devicessmart LED light bulbs

What comments can you share about
what a future home may look like for you?
Cover image credit: what a future smart home may look like by envato.com
end of post … please share it!
or simply search by entering home safety item or other remodeling need
Nice pic idea? Leave us a quick comment below.
And please share this pic idea within your social networks.