Seeing as how you're an extremely intelligent and sophisticated person, you have already determined the exact size of the table you're buying and you know precisely where it will go in your new rec room. After all, there's nothing more embarrassing than having a new pool table delivered, leaning over the rail, lining up that first shot … and then punching a hole in your drywall because the table is too close to the wall.
Obviously, that's never going to happen to you — being an extremely intelligent and sophisticated person and all — but there are some of us out there who are not as blessed with the good sense to properly space their pool table for their room. For those unfortunate souls, I provide the following guide to ensuring your new pool table will fit your room. Of course, if you want to read along for fact-checking purposes, I won't mind.
Measure your space
To start, we're going to assume you want to play with standard-sized 57-inch pool cues. (We'll get into using shorter cues later, if needed.) The rule of thumb we want to be most concerned about is that you'll need at least 5 feet of clearance between the rails of your table and the walls. If you have furniture or any other obstructions up against your walls, measure the 5 feet from the edge of those obstructions. Or just get it out of there. This is your billiards room now, what do you need a china hutch for, anyway?
Determine table size
Once you know how much space you have in your billiards room, you can figure out how large of a table you can buy to fill it. Standard pool table sizes range from 7 to 9 feet in length, and 3½- to 4½-feet wide. If you have your heart set on a 9-foot table but there's only 4 feet of clearance between one side of it and the wall, sorry Charlie. You should consider downsizing to an 8-foot table. Sure, that's probably a little disappointing, but it's better than keeping a bucket of spackle and a patching trowel at the ready all the time. You've patched drywall before, haven't you? You have to spread the spackle, wait for it to dry, sand it, paint it over, clean up all the dust, etc. — it's a real waste of a Sunday you could be spending shooting pool.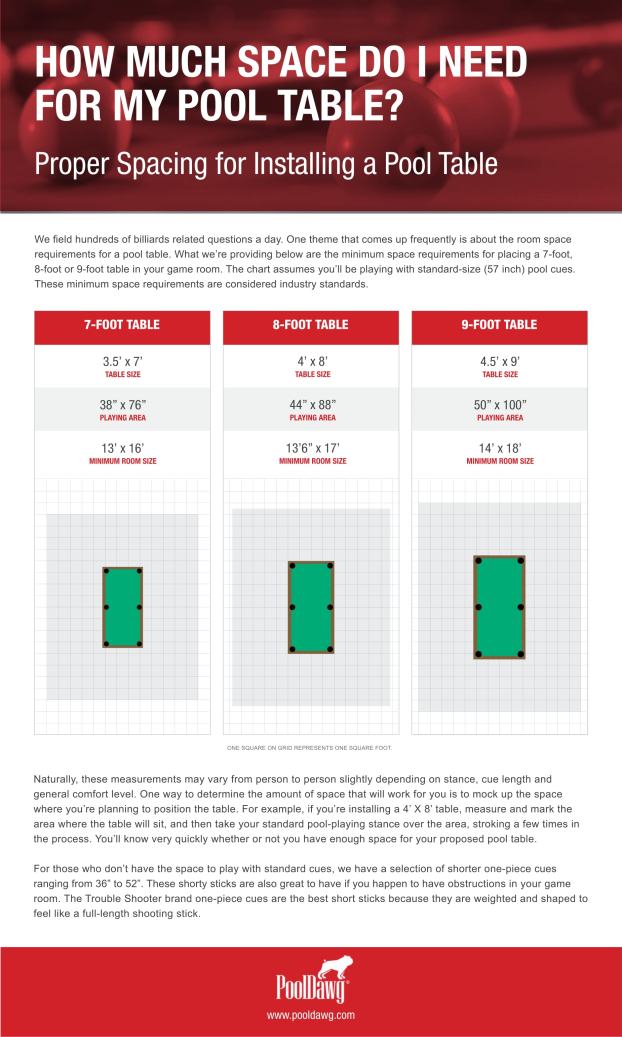 Proper Pool Table Spacing created by PoolDawg
Tape off a section of floor
A good way to make sure you've made all the necessary measurements is to mark the section of the floor where your table will go and give it a test run with your favorite cue. Tape the area and stand over it with your cue. Take a few pretend shots with your cue at various places around the imaginary table. You might look ridiculous, but you'll know right away whether or not you have enough room for the table you want. Just try not to get too carried away — remember what I said before about spackling?
Use shorter cues (if necessary)
If you've done all of this and you're still coming up a bit short, don't despair. If you can't make the room bigger or the table smaller, you can always gain a little extra wiggle room by using shorter cues. One-piece cues range from 52 inches all the way down to 36 inches. However, you can find shorty sticks that are weighted to feel just like a regular cue, so you don't have to feel like you're shooting pool in a dollhouse.
Obviously, none of this is news to a savvy billiards aficionado like yourself. Yet sometimes the excitement of finishing a basement or renovating a rec room can get the best of people and prevent them from making the most informed decisions. Hopefully this guide has been helpful for those people. (And if it was helpful for you, don't worry — I won't tell.)
Home Remodeling reference:
-------------------------------------------------------------------------------------------------------------
-------------------------------------------------------------------------------------------------------------
home remodeling reference (links to internal page)
| | | | |
| --- | --- | --- | --- |
| | | | |
| directory | photos | forms | guide |
Helpful article? Leave us a quick comment below.
And please share this article within your social networks.