first "photo remodeling" image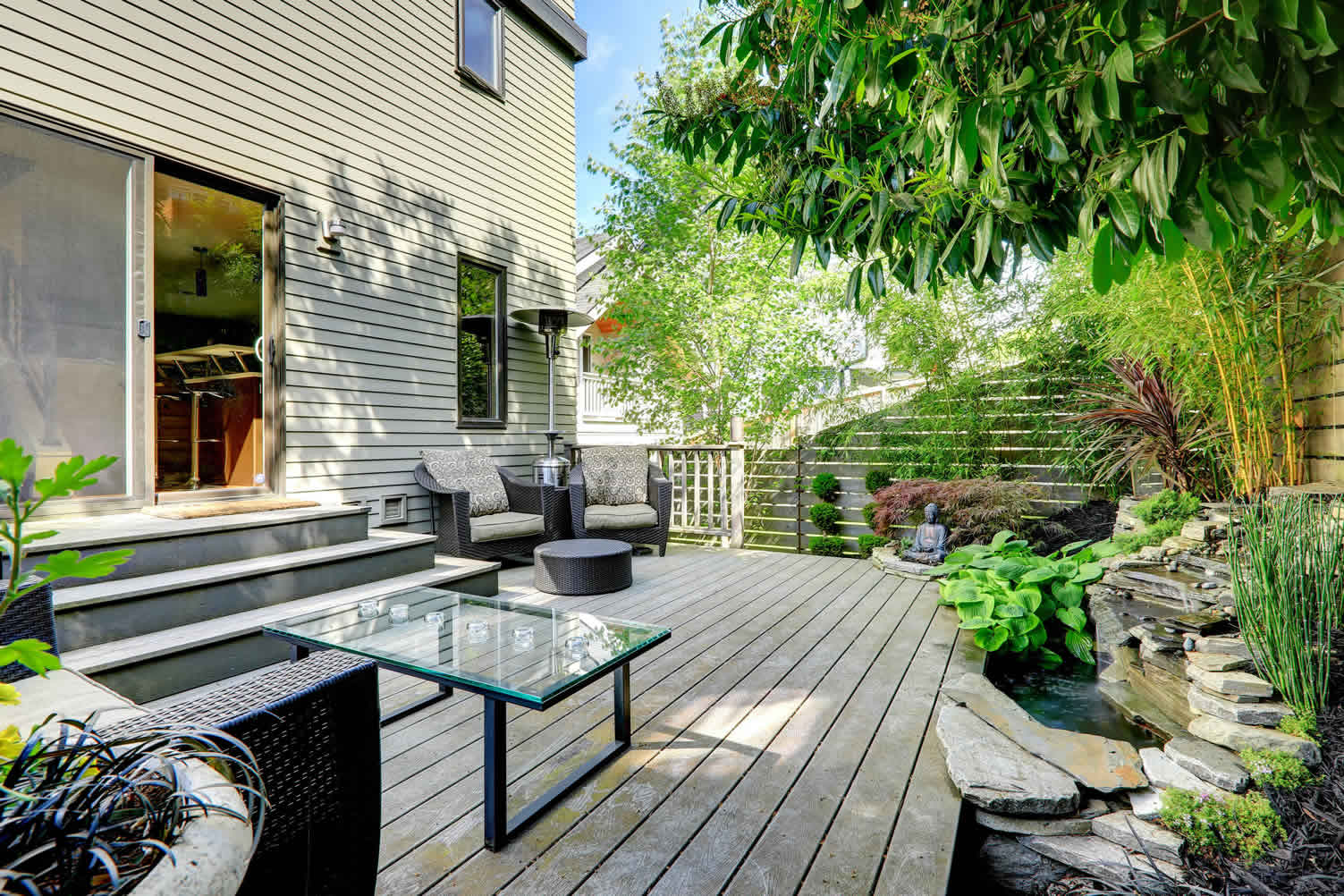 copyright image by 123rf.com
What do you see in the image above?
Notes:
Defining the boundary: urban or suburban homes with small back yards need to define their boundary by installing a decorative privacy fence that satisfies both property rules and owners. In the image example above, a tall privacy fence borders that back part of the property with a 45-degree slope to make-up the side boundary fence: INFO: how to build privacy fence
Landscaping: once the fences are in place, you can begin with the landscaping to make you back yard an oasis. Note the varying plantings – trees – shrubs – ornamental plants – etc., all arranged by height and breath. It gives you a nice foliage enclosure that makes your small yard appear larger.
Rock pond: now for the pond – an excellent choice for this landscape arrangement. The rock formation functions both as a pond with a waterfall and a foliage bed for the varying types and levels of plantings: INFO: tips building amazing waterfall
All deck – no grass: the final item is a full wood deck to take up the backyard area – extends from the house to the rock-formation. No grass to cut or take care of. Use the deck for relaxation and entertainment. Add some stone planter containers to round out your the foliage oasis.
Final Observation:
Imagine having the same backyard space with a step-down porch leading to a grass lawn? Perhaps a privacy fence along the back boundary. It would look really small. But with a landscape design illustrated above, you have a backyard look that is inviting and relaxing.
This is a perfect landscape option for urban backyards and homes with small areas.
What comments what can you share about this photo idea?
May We Suggest Some Key Postings About
"Water Features"
Nice pic idea? Leave us a quick comment below.
And please share this pic idea within your social networks.