"photo remodeling" image analysis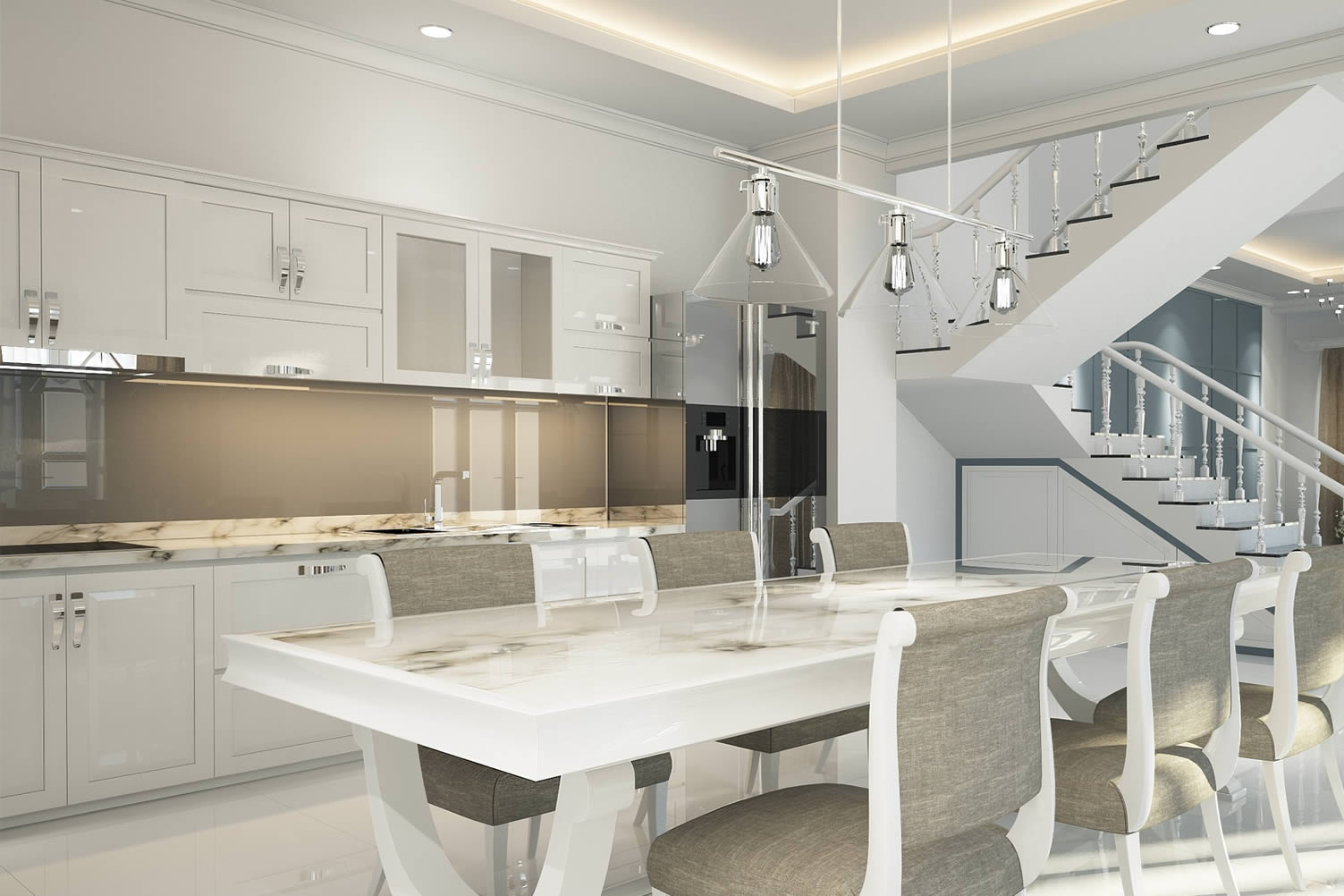 copyright image by Pixabay
What do you see in the image above?
Notes:
The contemporary styled kitchen: a style developed in the latter half of the 20th century. It softened the stark look of the modern style with rounded lines and dimensional depth. The interiors incorporated neutral colors with some bold accents and earthly elements:
INFO: modern vs. contemporary design: what's the difference?
Let's start with color: everything in this image is neutral with the earthly tones. The walls and ceiling are painted with an off-white – the cabinets are a shaded tone of white – the area underneath the cabinetry it tanish – and the countertop has shades of yellow and black.
All of these colors blended nicely to give that contemporary look:
INFO: interior paint ideas and schemes from the color wheel
INFO: discover ideas about interior paint
Kitchen table: note the curvature shape of the table top and legs – elements of the contemporary style. The chairs likewise with their curvature frame. The interesting part is the table top that matches the kitchen countertop. And the style color of the chairs blend with the room colors and trim:
INFO: compare contemporary kitchen table
INFO: with modern style table
Hanging pendant light: somewhat modern looking – but that works with the contemporary style that uses the geometrics of the modern style but with a softer touch. So matching the contemporary furniture with modern lighting works perfectly:
INFO: modern pendant lighting
INFO: contemporary pendant lighting
Kitchen faucet and sink: you have an undermount sink with modern kitchen faucet – this is the style trend for many newly remodeled kitchens. Undermount sinks make for easy countertop cleanup?:
INFO: undermount kitchen sink
INFO: modern kitchen faucet
Kitchen cabinetry: has some of the modern look but with cabinet door indentations that make that make these cabinet contemporary. The silver handles go perfectly with the pendant light and the stainless steel appliances:
INFO: kitchen cabinet handles
INFO: silver kitchen cabinet knobs
Final Observation:
very nicely designed, contemporary kitchen that is bright and open. This open room effect without walls is common among modern homes. The kitchen area is large enough to have kitchen table that seats six. A design concept that you should consider if you like the modern/contemporary look.
What comments what can you share about this photo idea?
or simply search by entering kitchen organization or other kitchen need
May We Suggest Some Key Postings About
"Kitchen Design"
Cover image credit: contemporary styled kitchen by Pixabay
end of post … please share it!
Nice pic idea? Leave us a quick comment below.
And please share this pic idea within your social networks.